Kelsey Schuder, President
Kelsey Schuder has been curling since 2010. She has been a member at Kettle Curling Club, Nutmeg Curling Club, Owatonna Curling Club, and Centerville Curling Club. While in Connecticut she started the Graduate Student Curling Club at Yale which continues to thrive and attend national level competitions. She loves the competitive nature of the game in equal measure with the Spirit of Curling. Kelsey moved to Rochester in 2016 to work as a nurse practitioner at Mayo Clinic. She looks forward to teaching many new curlers at the Curling Club of Rochester, as she is a USCA Level II Curling Instructor. You can see her participate in bonspiels anywhere from the east coast to the twin cities.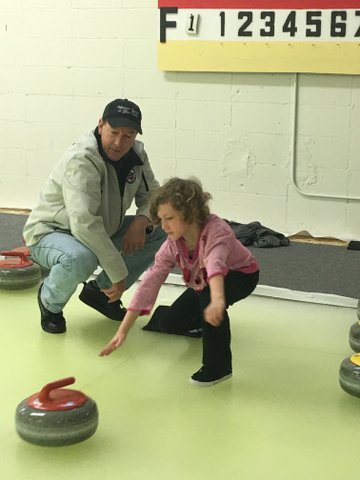 Duane hebert, vice president
Duane has been curling for 15 years starting in Rice Lake, WI, and most recently in Centerville, WI. Duane has participated in dozens of bonspiels throughout the Midwest, and even in Nebraska and Texas. Once hooked on the sport of curling, he involved his entire family in the sport. His wife, Theresa, daughter, and son played many bonspiels together and achieved the team nickname, "The Family". He has played bonspiels with his dad, siblings, nephews and any friend of the family that happened to be visiting and available. Duane's Centerville League team almost always consists of new curlers. He feels it is important to introduce new people to the sport by playing with experienced players. That way, they can be coached while playing the game to learn the many nuances of the sport of curling. He has lost count of how many players he has taught and introduced to the sport, including his grandkids (one of them in the photo). His family recently moved to the Rochester area and would love to see a quality dedicated facility in Rochester.
Scott Hoss is a curling enthusiast. He started curling in 2004 at the St. Paul Curling Club. After moving back to his hometown of Rochester in 2006, he continued weekly league curling in St. Paul. In addition, Scott has curled in the Wausau Men's invitational every year, since 2004, with a group of curlers from The Twin Cities and Duluth. Since moving back to Rochester, Scott has envisioned bringing curling back to town. His vision includes a largely volunteer curling community to showcase and spread the sport until dedicated ice can be a reality for curing in Rochester.
Stephen Russell, facilities
Stephen Russell was born and raised in New Brunswick Canada, and has resided in Rochester, MN since November of 1997. He is a Lead IT System Engineer at Mayo Clinic. Stephen was introduced to Curling during University during late 1980s, curled with the Beaver Curling Club in Moncton New Brunswick from1993-1997, the Rochester MN Parks & Recreation Curling Club from1997-2001, and has been a member of the Owatonna Curling Club since 2012.
Joel is a computer programmer at Mayo Clinic. He was raised in small towns where the only known connotation of the word "curling" had to do with hair. But after learning that both his father and grandfather had curled, he knew that someday he wanted to give the sport a try. Joel and his family have been in Rochester now for over thirty years and so when the opportunity to curl here in Rochester came up in 2017, he grabbed it. He has been passionate about the sport ever since. He shares that passion by being an ice tech, participating in league play, working to become a certified USCA Level 1 Trainer, and now also by being a Curling Club of Rochester board member.
Steve Makela started curling in 2014. A transplant from Detroit, he works as a Nurse at St. Marys. The last Olympics inspired him to attend a "Learn to Curl" event and he was instantly hooked. "The game always intrigued me, but it turns out it's much more fun and more complex than I imagined." He has curled in leagues at the Owatonna, Dakota, and Centerville clubs and a few tournaments, or bonspiels, driving up to two hours each way to play. Steve is excited to have curling come to Rochester, and looks forward to seeing a dedicated curling facility here soon.
Matt Raveling was interested in curling for many years but had never curled until a fun learn to curl activity with friends in 2015. He started league participation at the formation of the Curling Club of Rochester in 2017. Matt has been fortunate enough to ride the coattails of his teammates to three curling championships. He has previously participated on other boards and managed amateur sports teams, often handling communication, logistics, web, and social media activities. When not curling, Matt is an IT manager for Mayo Clinic, a Minnesota sports fan, and likes to travel with his wife, Melissa.
Katie started curling in the spring of 2018 after discovering the sport during the Winter Olympics in PyeongChang. After completing a Learn to Curl clinic hosted by the Curling Club of Rochester, Katie convinced fellow new Minnesotans to sign up for the first CCR Instructional League. Katie moved to Rochester in 2016, and when not exploring the Bold North, manages event marketing strategy and sponsorship for national nonprofits.